Distraction Markers and Custom Bands
Protect your visitors, staff, and property with custom-designed high-visibility distraction markers, which alert people to glass. Distraction markers are an important safety solution, but they can also serve as a beautiful design feature that enhances your space.
For all the benefits of distraction markers plus increased privacy, custom bands are another popular addition to office spaces. Add both decoration and partial privacy, while maintaining openness.
Safety
Distraction markers are a great solution to protect your team and visitors. They are a cost-effective solution to make the presence of glass more obvious, reducing the possibility of accident or injury.
Branding
While safety and privacy are the main reasons to add distraction markers and custom bands, they are also a great opportunity to brand your business space. Incorporate your logo or corporate colors to enrich the workspace and inspire company culture.
EYE-CATCHING DESIGNS
Distraction markers and custom bands have a very welcome side effect to their practical nature, they are also attractive – especially the etched glass effect. Custom film installations can elevate a simple pane of glass into a stylish design feature.
Be proactive and protect yourself, your visitors, and staff before an accident happens. Distraction Markers are a great solution to further ensure your space is a safe environment.
KELLY TAYLOR
CEO

The law or code requirement for transparent glass varies by city; check the legislation in your area by contacting your local building code department.
Even if you are not required by code, distraction markers are still an ethical and practical way to protect your business. Installing distraction markers is far more cost-effective than a lawsuit.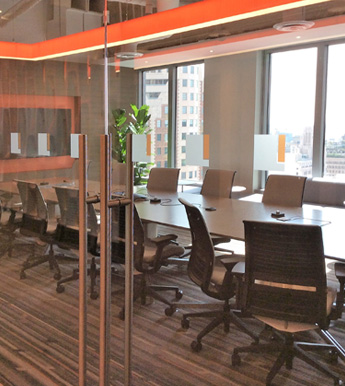 Although we offer a wide variety of distraction markers to choose from, why not take this opportunity to go custom?
Our in-house designers can incorporate any concept or idea, whether your aim is vibrant branding or accentuating your established aesthetic. Include your logo and branding, inspirational words, or custom patterns to create an attractive look for your space.
Although some of the most popular designs have the look and feel of sandblasted or etched glass, do not let this limit your design. We can personalize your decorative distraction markers to incorporate any color, pattern, style, or concept you have.
Although the transparency of glass offices helps foster a more open company culture, there are always spaces that need a little more privacy. For meeting rooms where confidentiality is key or personal offices whose occupant needs a barrier from office distractions, custom bands is a great solution. Cover as much or as little of the glass based on your unique needs. Furthermore, customize with printed or cut patterns, logos, or colorful imagery for style as well as function.